• Christine Wouters • #lucilights #lightuplife #solarchargedlight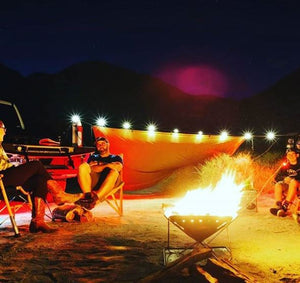 Luci Solar String Lights — Launched in Australia this week! MPOWERD is proud to bring a groundbreaking new product to market. With the addition of solar power, Luci Solar String Lights allow anyone to create their own sustainable ambiance wherever they may be," said CEO Seungah Jeong. "With two USB ports, you can also easily connect to a grid or charge a cell phone." Luci Solar String Lights are self-contained in a case that keeps them safely and neatly wound. The body of the case is durable and water-resistant with an IPX4 rating (limits damage from exposure to water and dust). The String Lights case...
---
• Edward Warner
Yesterday something funny came across my desk. One of our good customers Matt spent the Easter weekend camping with his family. "I gave my 11 month old sons Luci light camping. Loves them. He threw it in the fire the muppet. Anyway my wife was trying for about 30 seconds to get it out of the fire to no avail. It still works after that long in fire. Good news !" Got to love kids. At least he wasnt throwing aerosol cans in there like we used. Very happy to hear Luci can withstand even the harshest treatment.  
---
• Edward Warner
Our good friends at African Hearts have been traveling again taking care of some needy folk in Uganda. Ainsley Winter the Australian coordinator sent this through. Recently we welcomed the chance to work alongside a visiting Australian team in Kyerima, to provide a medical clinic to many who were sick or required treatment. Additionally, it was our honour to distribute 48 solar lanterns to the chairman, pastor and the most needy families of Kyerima. These lanterns will bring light in an otherwise powerless, dark village. Genesis 1:3-4 says 'And God said, "Let there be light," and there was light. God...
---
• Edward Warner
New York, NY – May 18, 2015: MPOWERD Inc., the maker of Luci inflatable solar lights, announced today that they have signed a 5-year deal with one of the world's leading medical supply distributors, UK & US-based Durbin Group.   The deal significantly expands the presence of MPOWERD's solar lights in the NGO and humanitarian aid sector, as Durbin will market the lights throughout its vast network of charitable clients in 180 countries. The companies project that millions of units will be distributed over the course of the 5 year contract. "Our company has always sought to do good by...
---
• Edward Warner
New York, NY – January 5, 2015: MPOWERD Inc. today announced that it has been named a 2015 CES Innovation Awards Honoree for its versatile and affordable Luci EMRG inflatable solar light. Products entered in this prestigious program are judged by a preeminent panel of independent industrial designers, independent engineers and members of the trade media to honor outstanding design and engineering in cutting edge consumer electronics products across 28 product categories. MPOWERD's Luci EMRG is a highly versatile inflatable solar light created in response to worldwide consumer demand for an affordable, durable, multi-use and non-polluting light. The award-winning new...